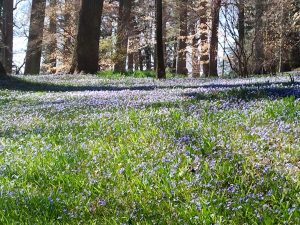 Romans 8:9-10
But you are not in the flesh but in the Spirit, if indeed the Spirit of God lives in you. But if anyone does not have the Spirit of Christ, this one is not his. But if Christ is in you, on the one hand the body is dead because of sin, but on the other, the Spirit is life because of righteousness (my translation).
Previously in our series on the Holy Spirit, we considered from the Scriptures our need of the Holy Spirit's work; namely, we were dead in sin. Next, we saw how the Spirit met this need by regenerating grace. This grace involved a washing and renewal (Titus 3:5) and conveyed an image or likeness unto God (Colossians 3:10). When the Holy Spirit uses the Word of God to cause us to be born again, four things happen: He gives a new heart (inner person) and spiritual life; he gives the gifts of repentance and faith; he breaks the power of sin; and he opens our hearts to Christ and his glory. The old person of the heart that was dead in sin is born again, so that we are now new in Jesus Christ.
"In Christ" is the key idea of salvation. All aspects of salvation, whether regeneration and conversion, or justification, or adoption, or sanctification, or glorification, happen because of our union with the Lord Jesus Christ. How do we come into saving union with the Lord Jesus Christ? Let us look at our text.
At the time of salvation, the Holy Spirit joins the believer to Christ. When we are saved, the Spirit enters the inner person of the heart and brings about union with the Lord Christ. This is a spiritual reality, and it cannot be perceived by our senses. But we know this happens on the authority of God's word. In fact, we can say this: It is a serious error to equate this act of spiritual union with certain physical manifestations or acts. (See Edwards on the Religious Affections.) There might be physical effects, but they are not an essential part of this event. This is one reason not to compare your conversion experience too closely to another believer. The Spirit works the same new birth, but there are various emotional effects.
When the Spirit enters a person, he effectively calls us to Christ; he unites us to Christ, so that we are "in Christ", or as Paul states in verse ten, Christ is "in us". Notice that the apostle speaks interchangeably of being "in Christ" and "in the Spirit". This is not because of confusion about the Trinity in his thinking, but it flows from the truth of Jesus Christ as the Ascended Lord, and so the giver of the promised Holy Spirit. The Spirit mediates the presence of Christ, and the Father, to us (cf. John 14:18, 23).
A basic definition of a Christian is to have the Holy Spirit of God living in the inner person of the heart. "However much we may need to grow in our relationship to the Spirit; however much we may be graciously given fresh and invigorating experiences of God's Spirit, from the moment of conversion on, the Holy Spirit is a settled resident within" (Moo, The Epistle to the Romans, p. 490).
Observe that the Spirit "lives" within us. He is active, residing in our hearts. He gets involved in changing us to become increasingly like Christ. He does not like unChrist-like activity and he will let you know his displeasure. He does like righteousness, peace and joy, and he will also let you know his pleasure in them.
This saving union with Christ produced by the Spirit is the basic experience of salvation (2 Timothy 2:10; Colossians 2:10). This is a practical matter.  "To the degree you understand union with Christ, to that degree you will understand the Biblical concept of salvation. Pause right now and ask God to make the doctrine of union with Christ a reality to your heart as well as to your mind… Every spiritual blessing which is necessary for our full salvation and which renders us complete in grace flows out of and is derived from our union with Christ" (Morey, The Saving Work of Christ, pp. 87-88, his emphasis). Understanding this will contribute much to a proper focus on Christ in our relationship with the Lord and his people. We will have confidence before God, since we are in Christ. We will accept one another because we are jointly in Christ. As we think on this reality, we will sense how sin is an ugly violation of what it means to be a follower of Jesus. Instead, we will desire to know the Lord better and to stay close to him.
Grace and peace, David