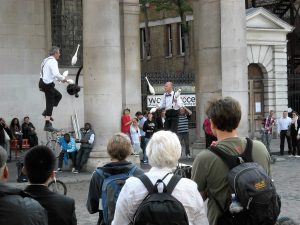 Luke 9:57-62
When I read the newspaper yesterday, I was surprised to hear that after 146 years Ringling Bros. and Barnum and Bailey Circus will close its show forever on May 21. A circus used to be a big deal in entertainment. I remember that a small Ringling circus used to travel through our area in Ohio, and I went to see it once. The only time I was ever at the greatest show on earth was when Sharon's cousin took our family when our children were young. An era of entertainment has closed. My granddaughter will not be able to see a circus. She and others will not know the meaning of a phrase like "someone ran off to join the circus."
Regardless of any sentimental regrets people might have about that circus closing, there is another circus that I wish would close as soon as possible. That is the circus held every Sunday in American churches. This past week I received a postcard that a new circus, oops, I mean "church", is opening nearby. It proudly proclaimed that it would feature a really good band. If that won't bring in religious consumers shopping for spiritual entertainment, then what will? Remove the bands and children's programs from most churches and you will have removed the main reasons for the assumed success of those churches. Replace the inspirational talk by the "lead pastor" with sound, Biblical teaching, and most of the rest of the crowd will disappear also.
The worship and mission of churches in America is far removed from the Lord Jesus Christ. Listen to how he interacted with some who wanted to be his disciples (learners). As they were going along the road, someone said to him, "I will follow you wherever you go." And Jesus said to him, "Foxes have holes, and birds of the air have nests, but the Son of Man has nowhere to lay his head." To another he said, "Follow me." But he said, "Lord, let me first go and bury my father." And Jesus said to him, "Leave the dead to bury their own dead. But as for you, go and proclaim the kingdom of God." Yet another said, "I will follow you, Lord, but let me first say farewell to those at my home." Jesus said to him, "No one who puts his hand to the plow and looks back is fit for the kingdom of God" (Luke 9:57-62 ESV).
The Lord Christ was not desperately gathering people. He did not seek a loose attachment to him. He certainly did not offer entertainment. Observe how he rebuffed certain types of supposed followers.
Jesus did not accept people who merely said that they would follow him, even if their words appeared to commit to him (9:57-58). He taught that the life of faith was not about personal convenience. It required sacrifice. The "circus church" allows people to attend when convenient; it strives to put on a good enough show that people won't find it convenient to miss.
Jesus did not accept people who failed to commit to his supremacy (9:59-60). He demanded first place above other relationships. The "circus church" excuses people for activities with family and friends, but hopes that they can convince them to join the weekly shows, at least occasionally. Everyone wants high attendance for Christmas and Easter programs.
Jesus did not accept people who looked for other opportunities (9:61-62). He demanded firm commitment. The "circus church" lets people play around, trying to keep them interested in attending weekend programs, while giving them a pass on godly behavior and commitment to Christ.
Let me stress that I don't want churches to close. But I pray that they will shut down the circus and return to Jesus Christ and his mission. I doubt this will happen, because they know that they will lose many who attend their weekly religious entertainment programs. The local leaders have counted the cost of their church following Christ and do not want to endure it, or they do not want to follow the Lord themselves.
Each one of us ought to examine ourselves. Do I really want to follow Christ on his mission of being a disciple myself and making disciples? Or do I merely want some weekend religious entertainment. It's time to end the circus and to begin discipleship.
Grace and peace, David