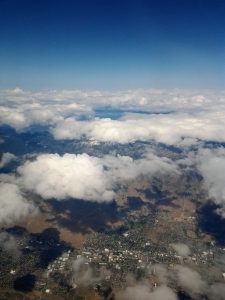 Ephesians 1:16-19
I do not cease to give thanks for you, remembering you in my prayers, that the God of our Lord Jesus Christ, the Father of glory, may give you the Spirit of wisdom and of revelation in the knowledge of him, having the eyes of your hearts enlightened, that you may know what is the hope to which he has called you, what are the riches of his glorious inheritance in the saints, and what is the immeasurable greatness of his power toward us who believe, according to the working of his great might (ESV).
Prayer ought to be a joyful experience for every follower of Jesus Christ. When we pray, we have the awesome privilege of communicating with God our Father through Jesus the Son of God with the help of the Spirit of God. Prayer is a time of fellowship with the living, eternal, holy Maker and Sustainer of all things! Yet, do we experience the holy joy of this fellowship? Are we willing to confess our lack of this fellowship? It seems that most do have this lack. From numerous years of experience as a pastor and teacher, I have observed the following.
Many churches no longer have a regular prayer meeting. Prayer meetings used to be the hallmark of gospel teaching churches.
Churches that do have prayer meetings have less than ten percent of their morning service in attendance.
People in prayer meetings look bored, act bored, talk bored, pray boring prayers, and some fall asleep.
Prayer times in Bible studies and morning services are perfunctory, people-focused, and usually powerless. When I was young, the pastoral prayer in morning services used to be at least five to ten minutes in length. Through pressure from the unspiritual or to please the unspiritual, such prayers are timed to about one to three minutes.
Prayer requests are about ninety-nine percent focused on the physical or material needs of people. This does not count the spiritual requests for the local church, its missionaries, and mission that are printed on a weekly prayer sheet. At a prayer meeting, such spiritual requests are neglected or prayed for in a ho-hum manner.
People in local congregations are unaware of the spiritual needs of one another and so never pray for one another as they ought.
I could add more, but to present our problem is not to solve it. At the core is a fundamental disconnect with the Lord. People also pray for the wrong things (for example, James 4:3), do not receive answers to such requests, which then produces little faith and discouragement about prayer. Another difficulty is that we need to pray differently. In articles to come, I want to explore this idea. I dream of seeing believers committed to communicating with God again. I want to see them open their hearts to the Lord, and to one another. I long to join with other saints (people that are set apart to the Lord) in fervent prayer, to hear something like "Can we pray soon? I've been bursting at the seams out of a holy desire to pray with you all!" Or, "Can we get together so that we can pray?"
Let's pray.
Grace and peace, David