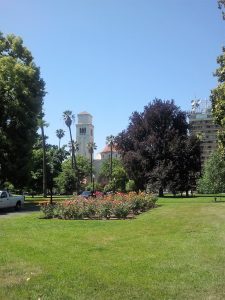 Genesis 47:1-10
Change happens. Change can be unavoidable, as it was for Jacob and his family. God can bring circumstances to us that require us to change, like finding a new job or school, like dealing with the suddenly impaired health of a family member or grief in our separation from them. We must be prepared to act wisely and in faith in new situations. We should act diligently when change comes to us. For example, if you have a flood in your house, (I speak from experience here), you call the insurance and start to clean up. You don't let the situation drag on and on. Pick up the trash, put it in the dumpster, and have the dumpster taken away as quickly as possible. We must act as swiftly as is prudent and possible in other change situations. God told Jacob to relocate to Egypt, and Joseph, due to his position, took charge in resettling his family. Let's look at Joseph's wise policy.
The usual way that men act, who are in positions of authority, is to do everything to advance the prominence and wealth of their family. However, Joseph acted prudently and discreetly to preserve his family's identity as a separate people. This is in line with God's plan to make them into a great nation. God had told Abraham generations previously that Israel's future lay in oppression by Egypt, not in becoming part of it. So, Joseph did not seek influential positions for them at court.
It is obvious that Pharaoh is very pleased with Joseph. He probably would have rewarded his brothers with any titles and positions that Joseph requested for them. But Joseph resisted. All opportunities are not God's opportunities. Jonah found a boat going away from God's will. As has been said, some open doors lead to empty elevator shafts. There are many temptations involved in politics, like power-mongering, greed, and sexual immorality. Joseph did not thrust his brothers into positions that they probably, given their history, were unprepared to handle properly. Like other vocations, politics involves a call from God.
Joseph did seek a place where his family could maintain their own identity. In Goshen, they were away from the affairs of state, yet it was a fertile area where they could thrive as shepherds. Don't despise your Goshen. The Lord has you in a place where you can thrive spiritually. You may not gain much earthly wealth here, but it may be the best place for you to lay up treasure in heaven (Matthew 6:19-21).
Joseph emphasized their earthly calling. Shepherds were detestable to the Egyptians. If they were known to be shepherds, then the Egyptians would gladly leave them separate from the mainstream of society. In this way, they became outcasts from the world. Joseph "would rather have them to be an abomination than a delight to the Egyptians. Egypt's frown is better for them than Egypt's flattery and fellowship" (Candlish). The same holds true for us. "The world's hatred is safer for the friends of Jesus than the world's smiles" (Candlish, cf. Lk 6:22.).
To cement their position in the land of Egypt, Jacob met Pharaoh (47:7-10). He went to Pharaoh with a blessing. This may seem strange to the worldly-minded person. What could Jacob give to Pharaoh, ruler of the world's greatest empire? The eye of faith can see what the worldly eye cannot. Who is Jacob? A detestable old shepherd before a great king? No, he is a child of the King of kings, one who will someday reign with the Lord Christ, and Jacob approached a needy beggar who happened to wear royal robes. What else could Jacob do but give a blessing? God's people should always try to be a blessing to a needy world. Therefore, let us be as wise as serpents and as harmless as doves.
However, all Jacob's words were not words of blessing. Yes, Jacob could acknowledge his misery in this world. Surely, he must speak the truth. But where was his faith? Why not add, "But God has helped me all the way?" Let not God's people give a wrong view of service to the King of kings. We may wear the scars of many battles for our King, but let us speak of the eternal reward he has promised. Therefore we do not lose heart. Though outwardly we are wasting away, yet inwardly we are being renewed day by day. For our light and momentary troubles are achieving for us an eternal glory that far outweighs them all. So we fix our eyes not on what is seen, but on what is unseen, since what is seen is temporary, but what is unseen is eternal (2 Cor 4:16-18).
Grace and peace, David