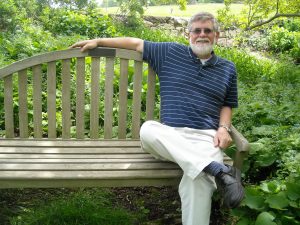 Psalm 4
In Psalm 3, we saw how David the king turned to the Lord during a painful time of his life, which was the rebellion of his son Absalom against his kingly authority. Psalm 4 doesn't give us any information about when David wrote these words. Most Psalms lack this information. We do not need to panic that we don't have it. The Holy Spirit led the Psalm writers to record their experience with God and life, and so we are able to profit in whatever situation we might be in. As we read, let us remember that this is a song, intended for the benefit of God's people as they sing together. Notice that the superscription tells us that it was written for the director of music, and that David intended that stringed instruments be used when it was sung. God loves artistic expression, and he desires that we use such abilities as we possess in worship and instruction of one another.
David sang about his need to receive an answer from the Lord (4:1). It is obvious that he sought a positive answer, as we all do. The Lord wants us to make our requests to him. He doesn't not tell us to simply state the situation without making known the result we desire. Imagine saying to your wife or husband, "I'm thirsty." Would you want to hear, "Thanks for the information"? No, usually when we make known our need, we specify what we want. In this example, "I'm going to get something to drink; would you like something, too?" I mention this because some people are of the erroneous opinion that you shouldn't tell God what you desire. But the Lord wants you to use your mind and emotions and to ask him. With respect ("O my righteous God"), David made clear that he longed for relief from distress and mercy in the form of answered prayer.
David sang about the opposition that he endured from other people (4:2-3). The songs of our lives will have melancholy and even dark stanzas. This opposition was of a religious character. David had the task of leading Israel back to the Lord, because the reign of Saul had been a time of spiritual decline. David magnified the Lord, but others did not. His confidence in God was to them a matter of shame. We face the same kind of opposition from the ungodly today. Their attitude involved that they made the "evil exchange". They turned from God to idols (cf. Romans 1:21-25). Notice that David openly rejected their course of action. He asserted the truth of the Lord's covenant relationship with his people. Those who know the Lord have been set apart for him. God wants us to share our lives with him. We have become a people for his possession. This means that the Lord will hear us when we call to him. "O beloved, when you are on your knees, the fact of your being set apart as God's own peculiar treasure, should give you courage and inspire your fervency and faith" (Spurgeon, Treasury of David, Vol. 1, p.38).
David sang about the way of life for God's people (4:4-5). Though anger is a part of our lives, we must avoid sin in our anger, which is extremely difficult, because our thoughts, ideas, and emotions are easily twisted by sin. This requires self-examination of our ways. We need to consider what motivates our hearts and our actions. Since David wanted to lead his people back to the Lord, he pointed out the need to offer the sacrifices that God required in the law covenant. We live in the new covenant and have a perfect and finished sacrifice, the blood of Christ. So for us, the new covenant application is always and only to approach God our Father through Jesus Christ and his sacrifice.
David sang about his hope or confident expectation (4:6-7). He pointed out what his people could expect as they sought the Lord. He told them there would be doubters about God's concern for them. In response to those who questioned, David boldly restated the source of blessing. Then he gave a personal testimony of the greater joy that the Lord had given to him. His joy was greater than what the doubters experienced in their material prosperity. True, joyful humanity is experienced when we rejoice in the true and living God, our family relationship with him, and contentment with the material provisions that he has given for our joy.
David sang about the rest that the Lord had brought to him (4:8). Yes, his situation had been one of distress. But now, through believing confidence in the Lord, he was able to "sleep in peace". This confidence does not come simply through the exercise of prayer. We must not only pray but also rely on the Lord's goodness, wisdom, and power as we wait calmly for what he will do.
While you and I do not know the tune of Psalm 4, we still may sing it in our souls. Let its truth resonate through your heart. Meditate on it. "Sing it" with your brothers and sisters in Christ. Seek the Lord through it. Your Father in heaven does want you to have "greater joy".
Grace and peace, David