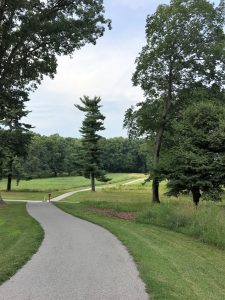 Genesis 46:1-7
The setting of this scene is the happy reunion that Joseph had with his brothers, and his encouragement to them to come to Egypt. There he promised to provide for them. Pharaoh and his high officials approved of Joseph's plan, and likewise encouraged Joseph's family. Truly God was at work in their hearts that they would so readily receive foreigners into their land.
Older dispensational theology considered the event spoken of in this section to be the final climatic failure of man under the so-called "dispensation of promise." According to that view, mankind had failed to live by promise; now God will put mankind under a new test, the Law. However, I think it will be clearly evident, as we consider this section, that it teaches no such thing. There is not a hint of rebuke by the Lord to Jacob for what he does. No other Scripture condemns him either. Instead, we find God reassuring Jacob to proceed with the plan suggested by his son Joseph. What really took place was this. In the plan of God announced to Abraham (Genesis 15:13-14), the time for Israel's entrance into Egypt had arrived. The Lord himself spoke to encourage Jacob to not shrink back from this time.
First, we Jacob's faith in action (46:1). So also faith by itself, if it does not have works, is dead (James 2:17 ESV). He had to believe in God's word through his son Joseph. His faith had to overcome a great obstacle. He believed Joseph had been dead for twenty years. Think of the way that Jacob had lived based on that misinformation for twenty years! He had to come to a complete change of mind now. In a similar way, the unbelieving sinner has lived on wrong ideas his or her whole life. When brought by grace to Christ, a thorough change of mind occurs. It is a long process to work this change of mind out in all areas of life with actions appropriate to repentance.
Jacob's faith was strengthened by the evidence presented. He received the word of Joseph (45:27; cf. 45:9-11; 37:11). He saw the carts that were sent to take him to Egypt. We have like evidence. We have the written word of God and what it tells us of the Risen Christ. After his suffering, he presented himself to them and gave many convincing proofs that he was alive. He appeared to them over a period of forty days and spoke about the kingdom of God (Acts 1:3).
His faith impelled Jacob to set out for Egypt. What good would it have been to say, "I believe God can provide for me and my family," and not leave for Egypt to get the provision? True faith in God is accompanied by believing activity. A true faith in Jesus Christ goes to Him for the free gift of righteousness, and then lives according to the gift received.
Jacob's faith included worship. He found a suitable place to worship. We who live in the new covenant and worship by the Spirit of God (John 4:21-24) ought to remember a different way of worship applied to all believers who lived before Jesus the Messiah appeared. This can help understand various passages, like Psalm 84.
It was a place where the Lord had appeared to his father Isaac and promised his blessing. There was an altar there (Genesis 26:23-25). Jacob approached God in a suitable manner of worship. Jacob offered sacrifices to the Lord as the godly seed had since the time of Abel. Now we have a better sacrifice, which says, "It has been paid in full! Christ is your righteousness and way to God" (cf. Ephesians 3:12). Because of Christ's finished work of redemption, we can approach the Holy God boldly and joyfully. We can rely on him through all of life's unexpected twists and turns, and turnarounds.
Grace and peace, David