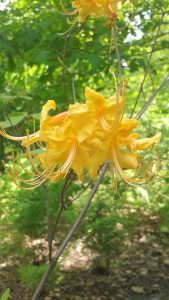 Psalm 25:8-15
Our focus in this series concerns God as the friend of his people. The Lord is good and upright, he forgives great sin, and he confides in his people. We are now considering how to respond to God's friendship. What does God expect of us in friendship? This text mentions four ways to express friendship with God (humility, obedience, godly mindedness and fear of the Lord). Last time we learned that we express friendship with God by being humble before him (25:9).
Let us think, next, about a matter that troubles many: friendship and fear of the Lord (25:12, 14).
Their concern can be traced to a misunderstanding of 1 John 4:18. There is no fear in love, but perfect love casts out fear. For fear has to do with punishment, and whoever fears has not been perfected in love (ESV). What they overlook is that John is talking about having fear on the Day of Judgment. That fear is cast out by the love of God set forth in Christ's propitiatory sacrifice (1 John 4:8-17). However, it is still very clear that we are to fear God (Luke 12:4-5; 2 Corinthians 7:1; Hebrews 12:28-29; 1 Peter 2:17). That a correct fear of God is consistent with friendship with God is clearly seen in our text (25:14).
What does it mean to fear God as part of friendship with him? Consider the relationship between knowing God and fearing him. The fear of the Lord is the beginning of wisdom, and the knowledge of the Holy One is insight (Proverbs 9:10 ESV). In this connection, we can say that the fear of the Lord is the inner responsiveness to learn of the Lord in his majestic greatness. So then, if we are learning God, as he has revealed himself in nature and in the Scriptures (cf. Psalm 19), what are we learning? People who learn the Lord carry with them a deep awareness or awe or reverence for God's infinity, transcendence, immanence, power, wisdom, holiness, grace and love. Let's think of some truths that God reveals about himself. Read and meditate on the texts below and pray for the Spirit of God to cause you to react in awe of your covenant Lord. God (is):
the First and the Last. I am the Living One (Revelation 1:17-18)
the King eternal, immortal, invisible, the only God (1 Timothy 1:17)
Holy, holy, holy… the whole earth is full of his glory (Isaiah 6:3)
the Rock, his works are perfect, and all his ways are just. A faithful God who does no wrong, upright and just is he (Deuteronomy 32:4)
from everlasting to everlasting (Psalm 90:2)
(does) not change (Malachi 3:6)
wonderful in counsel and magnificent in wisdom (Isaiah 28:29)
the Judge of all the earth (Genesis 18:25)
His wisdom is profound, his power is vast. Who has resisted him and come out unscathed? (Job 9:4)
is in heaven; he does whatever pleases him (Psalm 115:3)
Who is like the LORD our God, the One who sits enthroned on high, who stoops down to look on the heavens and the earth? (Psalm 113:5-6)
is God in heaven above and on the earth below. There is no other (Deuteronomy 4:39)
is not far from each one of us (Acts 17:27)
works out everything in conformity with the purpose of his will (Ephesians 1:11)
eyes are too pure to look on evil… cannot tolerate wrong (Habakkuk 1:13)
does not change like shifting shadows (James 1:17)
does as he pleases with the powers of heaven and the peoples of the earth. No one can hold back his hand or say to him: "What have you done?" (Daniel 4:35)
everything is uncovered and laid bare before the eyes of him (Hebrews 4:13)
from him and through him and to him are all things (Romans 11:36)
As we learn the Lord and communicate with him by faith, we will experience a deeper, richer, more vibrant friendship with him.
As we experientially learn who the Lord is, various characteristics will develop in us, though perhaps at unequal rates from believer to believer.
We cherish an awesome sense of God's infinite greatness and excellence. Consider a scene from heaven (Revelation 15:1-4). We can see this in our time, for example, in many of the newer worship songs. An unexpected event has occurred through these songs. Where there has really been the desire to worship God, they have become the doorway for many to a more Biblically correct and mature theology. As people have studied God's revelation of himself, they have come to regard God as far greater than they ever have previously to that study. We could say that such people become "treasure hunters". Once they get a glimpse of God's surpassing value and brilliance, they start out on a quest for more of it. They avoid what hinders them finding the treasure. Are you a "treasure hunter" of God's glory in Christ?
We come to a conviction that God's favor is the greatest of all blessings and his disapproval is the great of all evils. In other words, we take God seriously, living consciously in his presence.
This leads us to seek practically God's favor as our chief good, and to avoid his disapproval. This remakes the way we live in this present age (2 Corinthians 5:9-11). For example, a missional attitude flows from the fear of the Lord.
How is your growth in perceiving the greatness of the Lord? Are convictions in your inner person about God remaking your ideas, values, and attitudes? What new godly choices have you made? We all must think practically. Let's avoid the trap of merely listening to the word, while not doing it.
Grace and peace, David