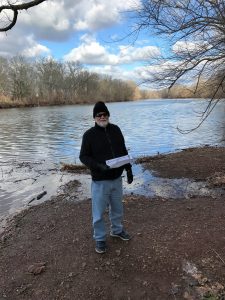 2 Timothy 1:13
What you heard from me, keep as the pattern of sound teaching, with faith and love in Christ Jesus (NIV).
Every believer is on a mission, which is to follow the Lord Jesus and learn how to fish for people (Mark 1:17). An immediate question is, "How does this happen?" From my experience in fishing for fish, I observed that you must be where the fish are: beside or on a body of water. I used to practice casting in my backyard, but there was no water, and there were no fish to catch. So then, we must be where people are to catch people. That should be obvious, but it seems many Christians expect to catch fish in a Sunday worship service. But few people care to jump into that pond to be caught.
Since our mission is not to make people religious but followers of Jesus Christ, we need to have the right kind of bait. You see, you cannot catch people to follow Christ, unless you follow him first. This also ought to be obvious, but many settle for trying to get people to sit in a church building, to participate in a church activity, and oh, to put money in the offering plates. After they pick up the lingo, get baptized, and join the church, the religious mission is accomplished. Hurray! But that is not what Christ or the Holy Spirit sets forth in our text. It tells us that we must keep or follow (ESV) or hold on to (HCSB) what we have heard. A follower is an attentive listener to Jesus and to those who teach his words. We must have the character of a Christ follower to catch people to follow Christ. Notice the brief reminder that Paul gave to Timothy and to all who read this letter.
We start with what we have been taught in God's word. This is the pattern of sound teaching. The Bible, whether in its narrative or commentary sections, provides a formative pattern for us. It gives us a perspective on life and how to act as adult sons and daughters of God in life's situations. For example, as God led the church through times of opposition (Acts 4 & 12), the Spirit made clear that the church responded to the opposition by prayer. Too often modern Christians respond by watching a movie about prayer, saying the movie was tremendous, and then not praying. But I digress…. First Peter was not written to give material for Christians to huddle in a living room and talk about their feelings about what Peter wrote. It was written to tell Christians scattered how to live for God's glory through Christ. It is a formative pattern for us.
We keep the teaching with faith and love. Our Father in heaven does not wish our heads merely to be filled with a collection of facts. He wants them lived out in a specified way. Our life is to be a life of faith, of dependence, of commitment to God's all-ability and promises. Faith often will not make sense in a self-centered world where people assume they are fixers. Love also is essential. I suppose every follower of Christ hears this early on (1 Corinthians 13:1-3). But we cannot fish for people unless we love people. Love makes us abandon our comfort, and faith our self-reliance. Neither option is palatable unless a person has truly repented and believed. The follower of Christ delights in being formed in faith and love.
These graces happen in Christ Jesus. Everything in life for the follower of Christ is focused on or built on the Lord. We believe in Christ and through him. We love because Christ first loved us and then love through his love. Faith and love happen by a dynamic relationship with the Lord. Then, when someone asks, "Why did you help me like you just did?" we have the right and humble response, "I did that because of Jesus Christ."
Keep the pattern, and go fish for people!
Grace and peace, David