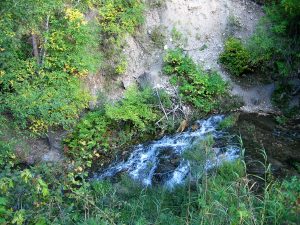 Ruth 1:6-9
Naomi and her two daughters-in-law were on the road back to Israel. For Naomi, this was a return to the old covenant people, their land, and their worship of the true God. For Ruth and Orpah, it would be a return to God from idols. For some reason not explained in the Bible (and it is pointless to speculate when the Word is silent), Naomi stopped to talk to the young women about not going with her. One thing is clear, Naomi wanted the Lord's blessing on her daughters-in-law (1:8-9).
Naomi demonstrated the place of kindness in relationships. The Hebrew word translated "kindness" is a rich word that means "covenantal loyalty, kindness, goodness, mercy, love, and compassion" (Younger). People in covenant relationships (whether to one's family or one's local church) are to show kindness to one another. You have a right and an obligation to expect and to give and to receive kindness. By the Spirit, you and I are to bring forth kindness (Galatians 5:22). Naomi acknowledges their kindness in her family. When people act properly, we should commend them for it. She honored them for acting kindly in her family, and especially toward her deceased sons, in the way that they should have. May each of you experience this in all your relationships with your in-laws!
Yet Naomi sought or seemed to seek the end of her relationship with Ruth and Orpah. She unexpectedly did this in two ways. She suggested they return to their mothers' homes, which is an unusual expression in the Old Testament Scriptures. In the three times it occurs, it refers to marriage and marital love (Genesis 24:28; Song of Songs 3:4; 8:2). So Naomi suggested that they return to their mothers to seek assistance in finding new husbands. She also kissed them goodbye. She intended to seal her permanent separation from them in a loving manner. We are wise to always and only part with true affection for each other, since we do not know if we will ever see each other again in this world. For example, one of my uncles died very unexpectedly in his forties years ago. He and his pastor had been having some sort of sharp disagreement about something. But the last Sunday morning my uncle was in church, he parted from his pastor by saying, "Pastor, you know I love you." And the pastor said, "Bill, I love you, too."
As already said, we are not given an explanation in the text for Naomi's reason. But we should not be overly critical of her. Her life was filled with uncertainties. In addition, in her current condition, Naomi could not make any promises to the young women. She was destitute herself and unable to suggest that they might be able to remarry within the covenant community of Israel. All that Naomi could see for them at this point would be poverty and long lives as desolate, childless widows in a foreign country.
We should also realize that by returning to Judah, Naomi was throwing herself upon the mercies of the Lord, who promised to care for widows. But did her daughters-in-law, who were of a people who worshiped false gods, now really share her worldview? Would they trust the Lord? However troubled Naomi may have been in her friendship with God, she was on the way back to God, to live in conformity with his word. Now, she could give a clear witness of her faith in God. Are we living in faith, so that we can also testify to our reliance on the Lord's provision? In other words, what is there in your life that provides evidence to others that you are living by faith?
So then, Naomi prayed for God's blessing on Ruth and Orpah. "It is very proper for friends, when they part, to part with prayer" (Henry). Observe how she mentioned "the Lord" (Yahweh, the living God) twice in her prayers. She consciously uses the covenant name of God to seek blessing. Her prayer was based on the truth that the Lord is God over all nations and can bless in any place.
She prayed that the Lord would show kindness to them. Having heard of God's renewed kindness for his people, she dared to pray for his kindness for two women from the nations. How much more should we who live in the new covenant pray for God's kindness on the nations! She also prayed that the Lord would provide both with new husbands. Notice the idea of "rest" for women in the marital relationship. "In essence, it connotes permanence, settlement, security, and freedom from anxiety after wandering, uncertainty, and pain" (Hubbard). Much more could be said on this subject! Ladies, do you pray for your families, as Naomi prayed for her daughters-in-law?  Men, are we concerned that our wives experience "rest" in our marriage? Let us all pray for God's kindness to produce rest in our families.
Grace and peace, David