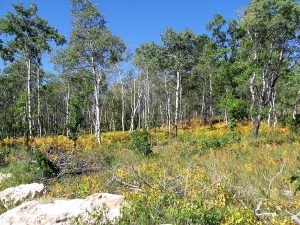 Ruth 1:6-9
In our previous article, we saw how God took the initiative to bring Naomi back from her sojourn among unbelievers to return to the Lord and his people. He acted in kindness. What was Naomi's response to God's action (1:6b-7)? She believed and acted. When God acts, we are to respond in faith according to his action. This requires us to think upon God and what he does (Psalm 77:10-12; 111:2-5).
So then, Naomi prepared to return home (to Israel) from Moab. Here, we need to know the meaning and importance of "return" in this chapter. The Hebrew word translated "return" is the verbal glue that holds this chapter together (1:6, 7, 8, 10, 11, 12, 15 [twice], 16, 22 [twice in Hebrew]; cf. also 2:6; 4:3). The chapter talks about the "return" of two women. For Naomi the return is personal renewal of the obedience that comes from faith (cf. Romans 1:6; 16:26; cf. 12:1-2). For Ruth the return is conversion to the true and living God.
This story is about turning back to the Lord. Part of the story of God's glory concerns the return of people to him. God takes returning people and makes them part of his story of redemption (an important idea in Ruth.) God tells us his story, in order that we might become part of his returning people. How do you need to turn back to him? What parts of your world and life view and the actions that flow from it need immediate change? For example, how does your life honor God everyday? How does love for your neighbor produce generous, self-sacrificial action in your way of life?
When Naomi heard the good news of God's care for his people, she sensed her need to return to God and his covenant community of people, for whom he provided bread. "Her return is a choice to identify with that community again. It is a return, not just to Bethlehem, but to Yahweh and Yahweh's people" (Webb, p. 42). Naomi responded in faith to the word about what God had done. She continued to believe that God is gracious and merciful, and that he would receive her back to him and his people. It is important to grasp this in order to understand what follows properly. How can your faith remain strong when you feel crushed by life's events? Remember what God has done for you in your walk of faith to this point, and consider what the Lord did for others in similar times.
Naomi's decision influenced Ruth and Orpah to return with her. The people of God act as salt and light in this world (Matthew 5:13-16). God uses our way of life as a means to draw more people to him. Think of people that the Lord might use you to influence. Her decision produced other consequences beyond Naomi's control. This is part of faith's adventure.
Initially, both daughters-in-law decided to go with Naomi. Clearly, they loved her, which speaks well of her previous interactions with them. Godly women should strive to draw their families close with the cords of love. Ladies, is this a priority in your life? Are you seeking to draw your family members to Jesus by the influence of your love for them?
This was an unexpected decision by Orpah and Ruth. "While Bethlehem had once been Naomi's home, it was never theirs. Her people were not their people. And if Orpah and Ruth came with her, it would mean two more mouths to feed on a fixed and limited budget, two more bodies to clothe and house, all the while dependent on the charity of family members" (Duguid). And those family members knew neither Ruth nor Orpah! But they decided to go with her! As we seek to make other followers of Christ, our lives can become more complex.
Their decision complicated Naomi's life in many ways. She would be taking two unwanted and widowed foreign women back to Israel. But she allowed them to start on the way back with her. We must appreciate Naomi's problem. To have them with her would be a reminder of her tragedy. A look at their foreign faces would remind her of the loss of her sons. Consider what a woman goes through when she chooses not to abort a child from an illicit affair or rape, and who also chooses to keep the child! The child can be a sign pointing to her tragedy.
Sometimes we need to weep. Show compassion on people who have suffered terrible events, even if you think they're to blame! (Why are people who claim to believe in God's grace so judgmental? Why do they say, "He or she made their bed and now they have to lie in it?" Would they like God to say that to them?) Don't you rejoice in God's compassion toward you? Then how dare you not show it to the suffering? Suffering people need daily mercy and grace. I beg you; I plead with you—please show compassion and kindness for Christ's sake! All of us should make compassion and kindness part of our constant return to the Lord.
Grace and peace, David