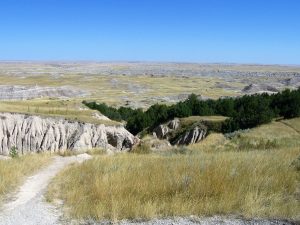 Ruth 1:14-15
Two young women had to make a choice one day, a choice that affected their eternal destiny. Orpah made the sensible choice according to the wisdom of this world and turned back to Moab. Naomi's arguments convinced Orpah. In Moab there was hope for a new life with a new husband, and probably children to love and care for. Wanting a husband and children is very normal and a good, God-given desire for women. But there is more to see in her situation than that! Orpah saw two alternatives: (Ferguson)
Yahweh plus nothing in Bethlehem
Everything minus Yahweh in Moab
And so, Orpah made her choice according to human sight and opinion. Orpah looked at her situation in life in exactly the same way that Elimelech had used earlier. The fields of Moab looked greener than the land of Israel, at least from the standpoint of marriage and family. And so with a sensible choice, she walked off the pages of the Bible and into the oblivion of countless others. The living God was missing from all her sensible calculations. "She rejected the road to emptiness, but at the same time unknowingly turned aside from the one road that could have led to a life of lasting significance and meaning. The world's wise choice to avoid emptiness leads in the end to a different kind of oblivion." [Duguid]
Someone might object, "Poor Orpah, she didn't know what God could do!" I'm sorry; that is simply not true. She had only to look at creation to tell her about the God who is there (cf. Romans 1:18-25). But not only is that so, but she had also heard a good word of testimony about the living God. Don't forget the message of verse six, which is the reason Naomi, Ruth, and Orpah decided to return to Israel! My friend, God is under no obligation to give you overwhelming testimony of his love and kindness. If you only hear once of how the Lord Jesus Christ has changed the life of one of his people, you have a treasure that millions never received. Don't play games with the goodness of God to you!
Ruth made the godly choice and clung to Naomi. The Holy Spirit choose a word ("clung") that he used other places in the Old Testament Scriptures to indicate a deep, personal relationship (Genesis 2:24; Deuteronomy 10:20). God then used the words of troubled Naomi to test Ruth's faith; that is, to draw out from Ruth the reality of her trust in God. God uses this way in the lives of his people (cf. Abraham, Genesis 22; Hebrews 11:17).
Naomi's words revealed the true nature of Orpah's choice. By leaving Naomi, she was "going back to her people and her gods". Orpah might have made the "sensible choice" in the world's opinion, but it was also an ungodly, unkind choice! Why unkind? It was unkind because she left her mother-in-law, who could have used her help.
Naomi urged Ruth to go back with Orpah. This is not the preferred way to try to win people to the Lord! But it tested the reality of Ruth's faith.
What would Ruth do? Her peer in the world said by example, "There's no hope in the Lord! Let's grab what we can of the good life now." And her only friend in God's people told her "to go back to the world, because the Lord's hand might make your life as bitter as mine!" But more importantly for those reading this article, what will you do? Will you follow the Lord Jesus Christ, if all you can be sure of in this life is suffering? Will you trust Christ that eternal glory will far outweigh all that you might suffer in this world? Please, please let the challenge of Christ ring in your heart!  Then he called the crowd to him along with his disciples and said: "Whoever wants to be my disciple must deny themselves and take up their cross and follow me. For whoever wants to save their life will lose it, but whoever loses their life for me and for the gospel will save it. What good is it for someone to gain the whole world, yet forfeit their soul? Or what can anyone give in exchange for their soul? If anyone is ashamed of me and my words in this adulterous and sinful generation, the Son of Man will be ashamed of them when he comes in his Father's glory with the holy angels." (Mark 8:34-38).
Grace and peace, David