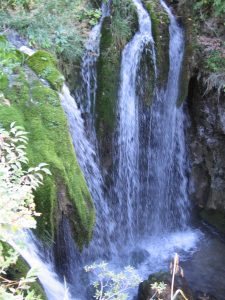 For the Lamb at the center of the throne will be their shepherd; 'he will lead them to springs of living water.' 'And God will wipe away every tear from their eyes'" (Revelation 7:17).
In our previous article, we examined two truths about heaven as a world of love. First, the great cause and source of love in heaven is God himself. Second, we saw three characteristics of the people who will know God's love for all eternity. Now, let's continue with three more truths about heaven and love.
The exchange of love in heaven will be threefold.
The Triune God will share his infinite love among the Father, Son and Holy Spirit, as they have from before the creation of the universe. And out of their Triune love will be love for all they have chosen to be the objects and beneficiaries of their love.
The holy angels and the redeemed will respond to God's love with perfect love. In this we will experience the fulfillment of the First Great Command, as a spontaneous, delightful desire. We will love God as Father, Redeemer, Spouse, and Friend.
The holy angels and the people of God will love each other perfectly. We will be sincerely united in love. There will be no loners or outcasts or enemies in the holy city. And since all are fully lovely, we will experience perfect joy in loving each other.
The principle of the love shared will be agreeable to the character of those sharing it.
Love in heaven will be totally holy. Most of the love in this world has some mixture of sin. But love in the eternal state will be free from corrupt principles or selfish motives. It will not be directed toward low or evil purposes. But it will be a pure flame, consistent with God's glory and happiness. We will love God for God's sake and one another for God's sake, and for their relation to him.
In its intensity, this love will be perfect. There will be no remaining hatred toward God, or distaste or coldness or deadness of heart toward God. There will be no envy towards others. Those who have a lower position in glory will suffer no thoughts of loss by seeing others in glory above them, but they will rejoice in the happiness that each one has attained. True love delights in seeing the prosperity of another, and a satisfaction in seeing another perfectly happy. There will be a pure, sweet and fervent love among the saints in glory, and we will agree in the position that each one occupies, as to the rightness and beauty of it. Those who have a superior position in glory will not be proud, because they will have a perfect humility, and will have an abundant love to all.
The excellent circumstances in which this perfect love will be exercised and enjoyed.
Love in heaven is always mutual. Love will always be returned with love, which will be much different from life in this age. When we reach out in love, our love will be accepted and prized.
We will know the greatness of God's love for us, and we will have the capacity to express appropriate appreciation to our Sovereign Redeemer. At that time, the truth of our loving because he first loved us (1 John 4:19) will be deliciously comprehended.
The joy of heavenly love will never be interrupted or cooled by jealousy. When we share love in heaven, we will have no doubt of the love of others for us. "Everyone will be just what he seems to be and will really have all the love that he seems to have." We will have no fear that God or others will withdraw their love from us, and we will not withdraw our love from others.
There will be nothing to hinder the mutual expressions of love. Here, we can feel dull and heavy in spirit, and our flame can flicker or smolder, but there it will be forever new, vibrant and fresh. We will not lack correct words to tell others of our love, and we will feel freedom in expressing it for God and others.
Love will be expressed with perfect decency and wisdom. There will be no false steps, no poor decisions, or lack of discretion. There will be no indecent, impure or dissonant actions or voices. No passion will run out of control.
We will not be separated by distance or time. We will become fully acquainted with one another, and not able to come to misunderstandings or forgetfulness. We will agree in truth, and so in our opinions, worshiping the ever-glorious Lord. We will be employed together in serving God and helping each other in the joy of that employment.
We will be united to each other as very near and dear relations, as children of God and brothers and sisters together in his family. All will be closely related to Christ, the Bridegroom as his beloved Bride.
All will belong to each other. We are God's, God is ours, and we are one another's forever.
We will enjoy eternal prosperity and blessing together, sharing in God's eternal riches.
All things will promote our love, because all things will show forth the beauty and loveliness of God and Christ by the Spirit (Revelation 21:22-23). The beauty and glory of the city will be an eternal testimony to the glory of God that we share in love.
There will be no lessening or end to the enjoyment of love together (1 Peter 1:4).
Let us all meditate on the glory of God in Christ that we will share!
Grace and peace, David