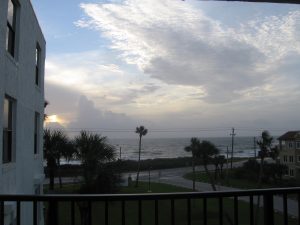 Since, then, you have been raised with Christ, set your hearts on things above, where Christ is, seated at the right hand of God. Set your minds on things above, not on earthly things (Colossians 3:1-2 NIV).
One of the privileges of being a pastor or elder is the spiritual care of God's people, especially as they approach the end of their earthly journey. Then, we see together what is truly important in this life, and it is not houses, cars, career accomplishments, victories by our favorite sports teams, vacations, entertainment, and gourmet restaurants. At the end, family and friends matter most, and if we are wise, our approaching meeting with the Lord. Our present purpose is to examine what the Bible says about life after death for believers, about what most people refer to in a general sense by the word "heaven".
What do we mean by heaven? The term is used in two general senses in relation to God's purposes of salvation. The first refers to the past ages and this present age. When we speak of heaven in the first general sense, the term is used in to speak of:
The sky (Matthew 8:20; 16:2-3)
The region of the stars and galaxies (Acts 7:42: Hebrews 11:12)
The place in the present age where God reveals his glory, where Christ resides in his glorified humanity, and where the angels and the spirits of the justified currently reside (Isaiah 66:1; Matthew 5:45; 18:10; Luke 22:43; John 12:28; Acts 1:11; 3:24; 2 Corinthians 5:8; Galatians 1:8; Hebrews 8:1)
When we speak of heaven in the second general sense, which is the primary subject of this study, we are speaking of the eternal destiny of God and his people. In this second sense, we refer to the new heavens and the new earth, and what the Bible reveals about them. "Heaven is the place where God most fully makes known his presence to bless" (Grudem, Systematic Theology, p. 1159).
Eternity is a most solemn and heart-searching subject. Our present life is but a very brief blip. Think on the following (cf. Ryle, Practical Religion, pp. 472-488):
We live in a world where all is temporary and passing way (2 Corinthians 4:18), whether beauty, strength, wisdom, or the worldly wealth we accumulate.
We are all going to a future where everything is eternal, whether for eternal happiness with God or for eternal misery under God's wrath (Matthew 25:46)
Our state in eternity depends entirely on what we are in time (John 3:16-18, 36; Romans 2:6-7; Galatians 6:8)
The Lord Jesus Christ is the Great Friend to whom we must all look for help, both for time and for eternity (John 6:37-40; 2 Corinthians 5:21; 2 Timothy 1:10; Hebrews 2:15; 1 Peter 2:24; 3:18)
Next, consider the various terms used in the Scriptures to describe the future blessedness of the saints. Invest some of your time in reading and meditating on these verses.
Life, eternal life, live forever (Matthew 7:14; 19:16, 29; 25:46; John 5:24; 6:47, 54-58)
Glory, the glory of God, an eternal weight of glory (Romans 2:7, 10; 5:2; 2 Corinthians 4:17; Ephesians 3:21; Colossians 3:4; 2 Timothy 2:10)
My Father's house, home with the Lord (John 14:2; 2 Corinthians 5:8)
Peace (Romans 2:10)
Salvation, eternal salvation (1 Thessalonians 5:9; Hebrews 5:9; 9:28)
Paradise (Luke 23:43; 2 Corinthians 12:4; Revelation 2:7)
The Jerusalem that is above, the city with foundations, the heavenly Jerusalem, the new Jerusalem (Galatians 4:26; Hebrews 11:10, 16; 12:22; Revelation 3:12)
A better country (Hebrews 11:16)
The kingdom, heavenly kingdom, eternal kingdom (Matthew 8:11; 25:34; 2 Timothy 4:18; 2 Peter 1:11)
Eternal inheritance (Hebrews 9:15; 1 Peter 1:4)
Eternal dwellings (Luke 16:9)
Glorious freedom (Romans 8:21)
To live and reign with Christ (2 Timothy 2:11-12)
Heaven (Matthew 5:12; 6:20; 19:21; Luke 12:33; 2 Corinthians 5:1; 1 Peter 1:4)
New heavens and a new earth (Isaiah 65:17; 66:22; 2 Peter 3:13; Revelation 21:1)
Each of the above ought to stir the hearts of followers of the Lord Jesus. They tell us what to set our minds upon. Make room for heaven in your thoughts today!
Grace and peace, David