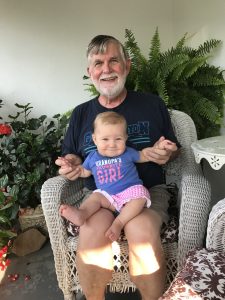 When we were overwhelmed by sins, you forgave our transgressions. Blessed are those you choose and bring near to live in your courts! We are filled with the good things of your house, of your holy temple. You answer us with awesome and righteous deeds, God our Savior, the hope of all the ends of the earth and of the farthest seas, who formed the mountains by your power, having armed yourself with strength… (Psalm 65:3-6 NIV)
Today I am sixty-five. Now I'm halfway through the new middle age of fifty to eighty. It just seems like I turned fifty in a way, but so much has happened since then. I definitely would not want to walk through many days of that part of my journey. However, I praise God for his overflowing grace that he has shown me constantly. Truly, his mercies are new every morning and his faithfulness is great. He has been with me through the dark days, refreshing me with the light of his joy. Now, I want to remember two of those times.
A couple weeks after I turned sixty, my wife Sharon and one of our friends went away to make cards with another friend. The next day, a Saturday morning, I woke up feeling a strange pressure in my back. I had read years before that if you have pain or pressure around your heart or stomach and if it doesn't go away when you change positions to call for help immediately. Since Sharon wasn't there, I did, or I wouldn't be writing this. I called around six and the ambulance arrived at six ten. By seven ten, I was on a table in the hospital having a heart catherization. As I was lying there, I remember praying, "Lord, I know you could end my life now, but I trust you for your grace." God was merciful, and a cardiologist put three stents an artery, nicknamed "the widow maker". Yes, it had been a close call. Later, when I told my pre-heart attack symptoms to an ICU, nurse, he said, "It's a wonder you're here. Men never come in with mild pressure." I thanked the Lord repeatedly for sparing my life.
My cardiologist ordered me to start walking in a couple weeks. I figured that if God had used the man to rescue me from death that I ought to listen to him. One bright October day, I crossed the street to walk in the Ellis Preserve. It is relatively flat (everything in Pennsylvania is on a hill!) and a good place to build up my strength. I had not walked far, when I remembered an article that I had read many years previously in the Sword & Trowel magazine, edited at that time by a friend of mine. It was about a pastor with inoperable heart problems. The pastors in his area had gathered around him and prayed that the Lord would grow a new artery for his heart. And the Lord did.
I stopped and prayed, "Lord, if I need new arteries, please grow some for me." I resumed my walk, and perhaps I prayed that prayer the next day also. I did not make it a regular prayer request. About a year later, my cardiologist had me take a stress test, "just to be sure everything is all right." I did, and a couple days later, while I was out on a file-mile walk with Sharon, he called. The news wasn't good. He said that I should have another heart catherization. "Maybe you need another stent or roto-rooter," he joked.
A heart catherization takes about two and a half hours: one hour to take pictures and the remainder of the time to do the work. He was done after one hour. "Why so fast?" I asked. He replied, "Do you want the good news first or the bad news?" I answered, "You know I'm a pastor. I always give people the bad news first, so that I can finish with the good news (the gospel)." He said very professionally, "The bad news is that you need a triple bypass." I agreed that was bad news and questioned, "Then what's the good news?"
He said, "The good news is that hasn't been any damage to your heart, and that your heart grew three new arteries from the right side to the left. That's the only reason you're talking with me right now." God had answered my prayer. My life had been spared twice!
God does answer prayer. While we ought to ask others to pray for us and we can pray in faith repeatedly (Matthew 7:7-8), God doesn't require that. The prayer of one person declared right with God is sufficient to present a request to Almighty God. Therefore confess your sins to each other and pray for each other so that you may be healed. The prayer of a righteous person is powerful and effective (James 5:16 NIV). God is holy, wise, sovereign, all-powerful, and good. Be encouraged to present your requests to him. The Lord answers prayer! You answer us with awesome and righteous deeds, God our Savior. Amen.
Grace and peace, David