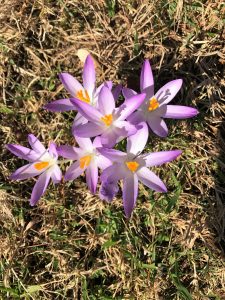 When we read the Four Gospels, we should remember that the evangelists were not writing biographies. Their object was not to write a "life of Christ" but to tell the good news about Jesus the Messiah. As they wrote about the story of God's glory in Christ, they chose events from his earthly ministry and selections from his words to display his glory that is good news for us. This knowledge will help us as we explore Matthew 8-9.
After the large teaching block that we call the Sermon on the Mount, Matthew chose several events to flesh out three ideas from the teaching: authority, faith, and discipleship. The transitional verses at the end of chapter seven move from the teaching section to the doing section on the pivot of his authority. And when Jesus finished these sayings, the crowds were astonished at his teaching, for he was teaching them as one who had authority, and not as their scribes (7:28-29 ESV, my emphasis). In chapters 8-9, Matthew sets forth examples of our Lord's authority. In some, his authority is openly stated; in most, it is declared by his words or acts.
His authority over disease (8:1-4)
His authority over disease (8:5-13)
His authority over disease (8:14-15, 17)
His authority over demons (8:16)
His authority to call people to follow him (8:18-22)
His authority over nature (8:23-27)
His authority over demons (8:28-34)
His authority to forgive sins (9:1-8)
His authority to call people to follow him (9:9)
His authority over his critics (9:10-13)
His authority over spiritual activities (9:14-17)
His authority to heal (9:18-20)
His authority over death (9:21-26)
His authority to heal (9:27-31)
His authority over demons (9:32-34)
So then, Matthew gives us much material to think about in these fifteen events. By faith, we can see Jesus acting with authority. It ought to make us ask the disciples' question. And the men marveled, saying, "What sort of man is this, that even winds and sea obey him?" (ESV) The cumulative intent is to lead us to bow at his feet and confess "Jesus is Lord", which is the basic Christian confession. As we explore these chapters, our minds and hearts ought to be stirred deeply, so that we choose to submit to his authority as our Lord. Read these chapters many times, asking God the Holy Spirit to make you feel the presence of the Lord.
Throughout these events, Matthew also highlights faith. This is essential, since some people like the scribes (9:3) and Pharisees (9:11), saw Christ's authority in action, and became critics instead of followers. The Gadarenes saw his power, and asked him to leave (8:34). A Gentile had great faith (8:10), while the disciples had little faith (8:26). Matthew records that those who approached the Lord in faith received blessing from him (9:2, 22, 29-30). When we sense Christ's authority, we must trust him and commit ourselves to him. As you read, examine yourself to see if you rely on the Lord.
Since Matthew's Gospel is about discipleship (28:18-20; etc.), he provides examples of people that heard his call and had to make a choice. Some suppose they are ready, when they don't understand the cost of discipleship (8:19-22). Others like Matthew heard Christ's call and followed him. In either case, people witnessed his power and his compassion (9:36). Read through these chapters and notice the mercy that Jesus showed to sinners and to the suffering. This Lord cares about people. He seeks others to labor in his harvest of making disciples and serving others. Will you pray his request (9:37-38)? Then he said to his disciples, "The harvest is plentiful, but the laborers are few; therefore pray earnestly to the Lord of the harvest to send out laborers into his harvest." Are you ready to follow him in this costly mission?
Grace and peace, David