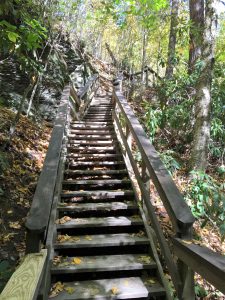 2 Chronicles 20:1-13
One October day, Sharon and I went for a short drive in response to an email. Hopefully, that sounds a little mysterious and I intend to leave it that way. We did not put our trip on Facebook, since we very, very rarely put anything personal on Facebook. Anyway, as we rode along, we came across a sign for one of those "haunted walks". What is it about this time of year that puts people into the mood for what is creepy and scary? I have only to mention chainsaw massacres, Freddy Krueger, and Chuckie to remind you of people's passion for not simple fear, but horror. As Stephen King said, "I like to scare people, and people like to be scared."
When we think of fear and worry, four facts are plain: (Ed Welch, Running Scared, p. 13)
Fear and worry run deep in us all.
Fear and worry have meaning. They say something.
Fear and worry say that the world is dangerous.
Fear and worry reveal us. They reveal the things we love and value.
What we have in the next incident from the life of Jehoshaphat, king of Judah, is a clash of fear and faith, in him and his people. After a short time of relative calm, everyone is in fear for their lives, their families, and their possessions. Would they survive? The world is never a pleasant place for people whose lives are threatened. But there is another fear. Would God, their covenant Lord, help them? Would he step in to rescue them? Fear and faith clash. Perhaps they are presently clashing in you, as you see a world in turmoil, that is not safe any longer, as we had long assumed. This chapter in Second Chronicles is for people in perilous times.
It began with a sudden, unexpected disturbance (20:1-4). The kingdom of Judah was threatened with invasion from the east (20:1-2). We must remember the setting of the recent religious turmoil that the southern kingdom of Judah experienced. Through Jehoshaphat's unholy alliance with Ahab, the worship of false gods like Baal was growing in influence on Judah. Jehoshaphat tried to counter this, as we have seen in 19:4-11. But as events will show, his efforts were only partly successful. Plus, because of his alliance with Ahab, God had announced discipline upon Jehoshaphat (19:2). Now, the stroke is about to fall.
The enemy was a large coalition of peoples, headed by the descendants of Lot, the Moabites and the Ammonites, with the descendants of Esau, the Edomites, also joined, along with other people groups. It is called "a vast army". Though Jehoshaphat had considerable military power, it was clear to all that this fight was beyond their ability.
I write the following to prevent discouragement to everyone. We should never imagine that our reformation of ideas and actions acts as a preservative from problems, especially when we deserve discipline from the Lord (Hebrews 12:4-11). There is not any "I'll quickly clean up my act and God must protect me" strategy presented in the Word. God is much more concerned that we become like Jesus Christ (Romans 8:29) than that we have a problem-free life. Difficulties are opportunities for God to develop repentance toward God and faith in Christ in our lives.
Fear took hold of Jehoshaphat (20:3). Fear can be either good or sinful. The right kind of fear can prompt us to right actions. A friend of mine told me a story about a man who ran a red light, and one of those traffic cameras snapped a picture of his license plate. The police mailed him a copy of the photo and a ticket for running the light. Then man, thinking himself clever, decided to make a photocopy of the money needed to pay the fine and send it to the police. They responded by sending him a photocopy of handcuffs. He quickly responded by paying the fine. My friends, that was a wise use of fear. So how did Jehoshaphat use his fear?
He resolved or "set his face" (ESV) to seek the Lord. I think that we expect the life of faith to be easy. You know, we pray some half-hearted prayer, sing our favorite song with a little enthusiasm, enter into a discussion at a Bible study with some degree of alertness and perhaps even read (gasp) a whole chapter (gasp) in our Bible. And then we expect revival to break out across the land. Can we leave Fantasyland, please? Matthew Henry commented on this verse. "Those that would seek the Lord so as to find him, and to find favor with him, must set themselves to seek him, must do it with fixedness of thought, with sincerity of intention, and with the utmost vigor and resolution to continue seeking him."
He proclaimed a fast for all Judah. Fasting is a believer's voluntary abstinence from food for spiritual purposes. Fasting shows that you are desperate for God's help. Fasting is not commanded in the new covenant, but allowed to express dedication to the Lord. Anyone with a disease like diabetes must consult their physician before fasting, and then only with the greatest caution. I had a diabetic friend who killed himself by not acting wisely in this matter. In our over-consuming culture, there might be different ways we can fast, such as by giving up desserts in order to pray, or perhaps by giving up movies, TV, the internet, or shopping, in order to pray.
The people joined together to seek help from the Lord. We read of the same thing happening in Acts four when persecution started against the early Christians. The Lord is pleased when his people join together to seek his help. We should not suppose that we are pulling one over on God by suddenly becoming spiritually focused. That is not the point at all. No, the Lord works through such events to pull his people together unto him.
The Lord saved me during the mini-revival of the early 1970s. One thing I can remember of those days was the united prayer sessions. Believers came together, calling on the name of the Lord for blessing. And he did! My friends, we live in prayerless times, and so we should not be surprised that we lack the experience of the presence and power of God. In all our local gatherings of believers, we need to pray more. How much time does your church devote to prayer in its services? If you attend a typical church, I can safely estimate that the total time for prayer is less than five minutes, and that those prayers are perfunctory. Do you pray in your Bible studies or small groups? Do not waste your life complaining and fretting. The Lord wants us to pray.
Ask, and it will be given to you; seek, and you will find; knock, and it will be opened to you. For everyone who asks receives, and the one who seeks finds, and to the one who knocks it will be opened (Matthew 7:7-8 ESV).
Grace and peace, David