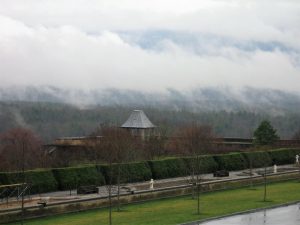 Psalm 10:1-11
King David trusted God, through the complexities of life. He knew that the Lord reigns forever (9:7). Yet he acknowledged the prosperity of wicked, prideful people. Life throws such complications at us, and we need a mature faith to work through the anguish we can feel. David does that in this psalm. We resume the previous article as he sings the unhappy song of the characteristics of wicked people.
They are self-confident with no fear of coming adversity (10:5-6). Given the known weaknesses of old age and the certainty of death, it is surprising that they can have such overweening pride. The wicked are like the sports teams that have skilled offences, but forget that they need a defense capable of stopping their opponents. Since they have excluded God from their thoughts, they assume that justice can never touch them. In the name of living for all the gusto they can grab now, they ignore much of life in a broken world. They don't want to think about it.
They are filled with corrupt communication (10:7). Jesus unveiled the source of evil speech. For the mouth speaks what the heart is full of (Matthew 12:34 NIV). People can speak in malicious and spiteful ways. Their aim is to hurt by their words. Read this sad catalogue and know what you can expect to receive in a broken world. His mouth is filled with cursing and deceit and oppression; under his tongue are mischief and iniquity (ESV).
They set ambushes to murder and oppress the helpless (10:8-10). We all can see and read about this evil every day. God desires people everywhere to care for their neighbors, and he grants people skill and strength to do so. The wicked do not love their neighbors as God commands; they abuse and kill them. Here we can clearly see the hideous nature of sin. We cannot see into the spiritual realm and see the nature of mankind's rebellion against the living God, but we can see the havoc and ruin it causes in the human condition. Violence is a growing problem among our people. Racial and ethnic tensions continue to rise toward a boiling point. The brokenness of humanity is about to break us all, unless God sends a new great awakening.
They suppress the truth of God and his justice (10:11). If they think of the God they have no room for in their thoughts, it is only to mock him. Listen to their ridicule: He says in his heart, "God has forgotten, he has hidden his face, he will never see it" (ESV). They portray God to themselves as oblivious, indifferent, and incapable.
So then, what should we learn as we live in this broken world?
We should avoid falling into the trap that supposes that God is far away and unconcerned. God is near us (Acts 17:27-28). We may not be able to discern God's activity, but let us not think that he doesn't care about us or suffering people. God will act in justice at his appointed day. The times of ignorance God overlooked, but now he commands all people everywhere to repent, because he has fixed a day on which he will judge the world in righteousness by a man whom he has appointed; and of this he has given assurance to all by raising him from the dead (Acts 17:30-31 ESV).
We should know that God understands our situation in this broken world. He realizes the opposition that the poor, the helpless, and his people face. Remember, this is a song that we need to sing in worship. It might be a very melancholy song, but it has a beneficial purpose. We do not want the Lord to stand far away from people in trouble. Neither should we. God works through people who live in this broken world to reach out to the helpless and the oppressed. We all ought to involve ourselves in his mission.
Certainly, it requires much more than our small efforts, and David will write more in this song about the need for God to act. For now, do not complain about life's troubles. Use them as opportunities to love God and people.
Grace and peace, David