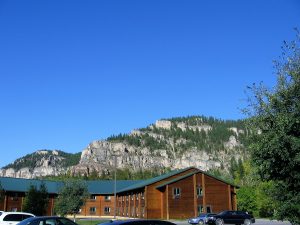 Ruth 1:22
Sharon and I have moved much in our lives. We stayed in our previous two homes for fifteen and twenty years respectively. When we moved last December, it was a big event for us, one that included downsizing (and hopefully rightsizing) our possessions. Though getting rid of a lot of stuff was tiresome, we looked at the process with joy, since we were moving to a new home. (No, that's not a picture of our present apartment building. But the view would be great!) We were on our way to a new place with new people to meet and new experiences to share. Though the move was over six months ago, our apartment still feels new to us, and we thank God our Father constantly for what he has given us. In saying this, we realize that some people find moving stressful and unpleasant. Naomi had decided to return to Israel, and her move brought stress to her.
However, someone else besides Naomi came home in this passage (1:22). Her name was Ruth. This verse has a difficult structure, but the word "return" is used of both Naomi and Ruth. So Naomi returned, and with her Ruth the Moabitess, her daughter-in-law, who returned from the land of Moab. And they came to Bethlehem at the beginning of barley harvest (NASV).
In Naomi's previous words, we heard her say nothing about her daughter-in-law. Naomi had complained in the singular. However, hadn't Ruth lost her husband, too? Wasn't Ruth also childless? Wasn't Ruth also facing a grim future? If Naomi had been brought back empty, then what can be said about Ruth, who was now empty in a foreign land?
Suffering can produce a self-centered outlook. Others are forgotten. What matters are my pain and my anguish and my troubles and my loneliness and my heartache! Yes, Naomi was suffering, and we reach out to others in our grief. But surely she should not have overlooked Ruth, but spoke in the plural, and talked about how Ruth needed friends and help!
However, the Holy Spirit who inspired the writer of this portion of Scripture has not forgotten Ruth! He points out that Ruth the Moabitess had returned. How can this be called a return, since Ruth had not left Bethlehem in the first place? The Spirit of God wants us to know that Ruth has returned to the living God.
By calling her a Moabitess, the Holy Spirit wants us to sense the wonder of her conversion. In this Old Testament book, he reminds of God's greater purpose. God had said that all peoples on earth would be blessed through Abraham (Genesis 12:3), and he had invited the nations to rejoice with his people in the great song of Moses (Deuteronomy 32:43). So then, in the Torah, the old covenant law had excluded the nations from the people, while God also revealed his purpose to include them among his people. It was very unclear to people under the law how those two truths could agree, if they even thought about them. It was a mystery whose solution could only be found in Christ (Ephesians 3:1-13). Ruth stands as one of the firstfruits of that worldwide vision. As God gave more revelation in the Old Testament Scriptures, he would affirm the purpose that would be fulfilled in the Lord Jesus. So then, Ruth the Moabitess returned to God and his people! Naomi had not returned empty, because Ruth the Moabitess went home with her! To sum up the story to this point, "when God is at work, bitter hopelessness can be the beginning of some surprising good" (Hubbard).
How can you know that God is at work for your good (Romans 8:28)? You can only know it when you trust in the Lord Jesus Christ for forgiveness and righteousness with God. Only then can you know the love of God from which nothing, absolutely nothing, can separate you.
Grace and peace, David