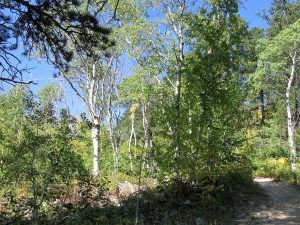 Ruth 1:16-18
Ruth had chosen to follow the Lord, instead of making the choice for her former gods, as her sister-in-law had. Along with that choice came other immediate consequences that produced a new identity for her. Ruth knew this and was ready to accept it, though she could not realize the dramatic changes would follow. It is only when we begin to experience the reality of following the Lord that we start to understand the radical, new life that results from being part of the family of God.
When we become a believer in the true and living God, the way we look at ourselves changes. As a believer who lived before Christ's death and resurrection, Ruth became part of the old covenant nation of Israel. She was joined to Yahweh and his people. This meant that she would from that time on live as one of the Lord's people, keeping the law's commands and regulations. What she ate, how she dressed, her thoughts, attitudes, words and actions were now within the boundaries of old covenant life. For example, she could longer have a ham sandwich for lunch! She had to keep the Sabbath. She had to keep the laws of ritual cleanliness. Yes, even the basic desire of her heart had to change.  Hear, O Israel: The Lord our God, the Lord is one. Love the Lord your God with all your heart and with all your soul and with all your strength (Deuteronomy 6:4-5).
As new covenant people, we become part of Christ's body or church (assembly or gathering). We are united to Christ by faith. Everything in our way of life must change. When we wake up every morning, we must remember we are in Christ and part of the new creation (2 Corinthians 5:17). We have a new mission statement and a way of life that agrees with it (1 Corinthians 10:31; Colossians 3:1-4:1; 1 Peter 1:13-2:3; etc.)
With this union with Christ to God the Father's family, we gain a new passion for life. We stop wandering aimlessly through life and begin to live for the kingdom of God. Ruth's passion showed up in the strong promise and oath she made (1:17), probably made with a fitting gesture, such as slashing one's throat. (Remember that when people speak with emotion, we tend to use gestures!) She was very willing to join the people of God and to worship the true and living God the rest of her life.
True Christianity involves living with passion for the story of God's glory in Jesus Christ. The good news has forever changed us, and we want others to hear the good news of Jesus and be saved! And so we gladly make sacrifices of wealth, health, leisure, honor, and perhaps even our lives for the Lord Christ.
Our daughter Sarah once attended at a meeting for managers, where the founder of the company told the story of the start of that company and the sacrifices many had made to launch it. Christ's church grows in the same way. People make sacrifices for the benefit of others and to extend the spread of the good news. Are you passionate about what the mission of the church, the new covenant people? Are you glad that you're part of the people that follow Jesus Christ?
Our hardships can become the doorway to faith in the Lord for others. What must have Naomi been thinking as she listened to Ruth's confession of faith? We are not told! The writer allows us to ponder the scene in solitude. In any case, to the praise of God's glory, all of Naomi's complaints failed to have a detrimental influence on Ruth. But clearly, Naomi was not filled with joy at the moment, as this "pest" of a daughter-in-law walked by her side, because Naomi's words were filled with her bitterness when she arrived in Bethlehem. However, God has told us the rest of the story that neither Naomi nor Ruth knew at that moment. God wants us to share his smile, as his sovereign grace as provided a kind, loving, believing sister-in-the-Lord to walk beside struggling Naomi. For at that time, the story of God's glory was very much wrapped up in Ruth, and through her, Naomi's life is about to change from bitter sorrow to sweet joy.
My friend, why not trade in your bitterness, sorrows, frustration, disappointment, and anger for the opportunity to serve the Lord with gladness, because he delights in joy and offers to share joy with you? Life is short. Don't waste your life being peeved and pouting.
Think on the words of the last stanza of "The Master Has Called Us" by Sarah Doudney, 1871.
"The Master has called us, in life's early morning,
With spirits as fresh as the dew on the sod:
We turn from the world, with its smiles and its scorning,
To cast in our lot with the people of God:
The Master has called us, His sons and His daughters,
We plead for His blessing and trust in His love;
And through the green pastures, beside the still waters,
He'll lead us at last to His kingdom above."
Grace and peace, David