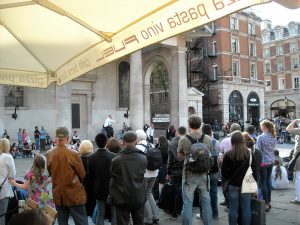 Hebrews 10:25
Not giving up meeting together, as some are in the habit of doing, but encouraging one another—and all the more as you see the Day approaching
Traditionally, western churches (gatherings of believers) have met in buildings that they own. Over a period of seventeen hundred years, a local church has been very identified with its building, so much so that to talk about "meeting together" became synonymous with going to the church building. For ease of reference, we will call these "edifice churches". Much of the people, time and monetary resources of edifice churches is consumed by the building. I know this firsthand, because I grew up in such churches, trained for the ministry in edifice churches, and was the pastor in two of them. I mention this because most people think that "meeting together" equals "attendance in the church building at its regular services".
I say all this to address an attitude difficulty about this verse. Please don't think of it as a text that a pastor uses to beat his people to attend services in a building. Please don't think, "Oh no! I know just what he's going to say, and I'm not going to listen!" Frankly, I am not your judge, and I think we can both give thanks for that! Jesus Christ is your Lord, and he alone must be the Lord of your conscience.
If you think that this text is a weapon to clobber you, then I think you misunderstand the nature of a new covenant ministry and of many pastors and teachers who love you. (Sadly I admit that there are many pastors and teachers that are legalists and look for Bible verses to control people who they're supposed to be serving in love.)
If you view any texts of Scripture as clubs, then I think you have been taught about the Bible incorrectly or might have a serious spiritual problem (1 Thessalonians 5:19). Why are you hiding from what God the Holy Spirit says to you in his word?
If in this text you hear the voice of the local leaders of your gathering instead of the Lord's, then I think that you need to reconsider your accountability to the Lord. When I was a pastor of an edifice church, I said the following many times. "If your reason for missing a service is good enough for the Lord, then it had better be good enough for me. But is it good enough for the Lord?"
Now that hopefully we have cleared some of the bogeymen away, let's listen to what the Holy Spirit says in this Biblical text.
The writer of Hebrews confronts a grievous problem. Some were in the habit of staying away from the gatherings of God's people. They were giving up meeting together.
Let's consider a couple possible explanations for their conduct.
Fear of suffering because of persecution: Across the world many followers of Jesus Christ constantly live with this fear.
Spiritual laziness: the cares of this life have a greater importance than the values of the spiritual life, including loving one's brothers and sisters in Christ
Unbelief (Hebrews 3:12) – this is secret at first but gradually becomes known; someone looks like a convert, but they have not been changed. Spurgeon told of such a person in his autobiography, the converted "wild man". He looked good at first, but he had never counted the cost (Luke 14:25-33). Soon, he was absent from God's people.
What is the special concern of this text? It is not dealing with the questions of when and how often. It says nothing about which day of the week that Christians should have for our gatherings. It also says nothing about the number of times that we should meet in any given time period. It clearly says nothing about going to a meeting in a building to fulfill some sort of an obligation to God.
Instead, the text is directly speaking to the issue of forsaking the assembling of Christ's people, period. "Some people are not among your gatherings; don't follow their wrong example."
Here are some additional clarifications:
This verse has nothing to say about what may or may not be valid reasons for not attending any particular meeting. Everyone wants to start asking questions at this point. Illness? Death in the family? Employment? Distance? Vacation? Old age? Something else? You are adult sons and daughters in God's family, and your Father in heaven expects you to figure this out without a direct word from your local leaders.
Instead, this passage refers to those who abandon meeting with the other followers of Christ. The person knows that their local assembly is meeting. He or she could be here if he or she wanted to be, but he or she doesn't. Something else is more important to him or her than public worship and mutual fellowship. One thing that I have learned over the years is that people basically do what they want to do. To those who forsake meeting with your brothers and sisters in Christ, I would simply ask, "Why don't you want to be with them?"
Next time in this passage, we'll talk more about what this means in a positive sense. But for now, think about how important it is for you to be with other followers of the Lord Jesus on a regular basis. You need to be opening your heart and sharing your life with them. Are you?
Grace and peace, David