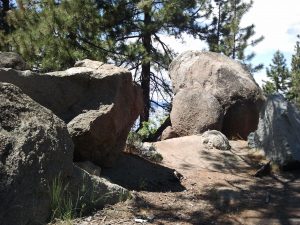 Psalm 30:6-7, 11-12
When I was secure, I said, "I will never be shaken." Lord, when you showed your favor, you made me stand like a strong mountain; when you hid your face, I was terrified… You turned my lament into dancing; you removed my sackcloth and clothed me with gladness, so that I can sing to you and not be silent. Lord my God, I will praise you forever (CSB).
Our topic is the changing moods of God's people. When we first experience God's saving grace, we usually experience great peace or exhilarating joy or a profound sense of acceptance or some other mood that flows from being right with God. Then we begin our daily walk with God, and as we walk by faith or a lack of faith, our moods can vary. Behind the scenes of the saint's moods lie various actions of God that are the grounds for the saint's feelings. Here are some examples from David's experience.
When David felt secure (30:6), it was because of the Lord's favor. It provided the stability that made security possible (30:7a). It is possible to misuse the provision of God, isn't it? Oh, we know this too well! It is right to feel secure because of God's grace, but we should not rest in our feelings of security.
When David felt dismayed (30:7c), it was due to the Lord hiding his face (30:7b) to correct David. In this condition a believer lacks felt testimony of God's favor. He or she does not enjoy the light by which he or she can discern God's nearness.
When David felt joy (30:11c), it was because God had intervened in his life ("You turned… you removed… and clothed…"). As we have said, the Spirit of God wants to lead us into the joy of the Lord.
As God's people, we need to be more God-centered in the evaluation of our lives. Surrounded by the worldview of the ungodly, we tend to adopt its philosophy about the events and condition of our lives. They do not see the sovereign God involved in human life, and so they attribute everything to the action of people, luck, the forces of nature, or determinism ("what will be will be"). Sadly, many believers fail to function like believers; they do not change their minds and view the God who really lives acting in our lives.
Our varying moods need to be owned or acknowledged by us. We ought not to expect other followers of Jesus to wear "Christian happy faces" at our local gatherings. Yes, there are times when we stand like a strong mountain. We want to see others in that condition. However, let's not be shocked when a brother or sister admits that they are terrified. A local church will only grow when we allow others to act in a real manner in our fellowships. This can make things "messy", but I'd rather have messy and real than tidy and fake.
We need to take action to develop a "God-involved in our lives" outlook. For example, let's listen to how Paul speaks about God being directly involved in his life. Therefore, in order to keep me from becoming conceited, I was given a thorn in my flesh, a messenger of Satan, to torment me. Three times I pleaded with the Lord to take it away from me. But he said to me, "My grace is sufficient for you, for my power is made perfect in weakness." Therefore I will boast all the more gladly about my weaknesses, so that Christ's power may rest on me. That is why, for Christ's sake, I delight in weaknesses, in insults, in hardships, in persecutions, in difficulties. For when I am weak, then I am strong (2 Corinthians 12:7b-10). During the week think through Matthew 6 in this way. What does Psalm 29 teach you about a "God-involved" outlook?
Grace and peace, David