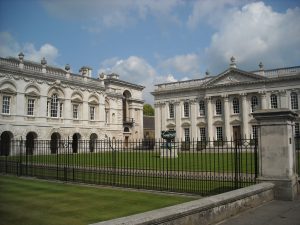 2 Corinthians 5:18-19
Everything is from God, who has reconciled us to himself through Christ and has given us the ministry of reconciliation. That is, in Christ, God was reconciling the world to himself, not counting their trespasses against them, and he has committed the message of reconciliation to us (CSB).
Every day our hearts are drawn between many competing desires. Some of these are easy, totally up to our preference, and it really doesn't matter what choice we make. But others concern the eternal destiny of other people, and God wants us to have a holy desire when we are faced with matters of this magnitude. The question before us is: "Do I share God's holy desire about other people?" Let's focus our attention on his desire and then evaluate ourselves about whether or not we share God's holy desire. God desires that sinful people be reconciled to him. By nature, we are separated from God because of sin. Our first parents rebelled against God and we persist in rebelling against the Lord. But your iniquities have made a separation between you and your God, and your sins have hidden his face from you so that he does not hear (Isaiah 59:2 ESV).
Consequently, a state of war exists between God and sinners. We were God's enemies (Romans 5:10a NIV). God must uphold what is holy and good (loving God and loving others), and sinful people oppose God's desire for what is holy and good (Romans 3:9-20). People by nature are separated or alienated from the living God. Suppose a husband gives his wife a necklace with a one-carat diamond hanging from it. Now suppose that another woman coveted that necklace and began to reject the woman with the necklace because of her jealousy. That coveting and jealousy would be evil and would cause evil. Now suppose that you find yourself thinking, "Why did God allow billionaires to have so much money? Why didn't he give it to me?" Now that would also be evil. Rebellion against God and his precepts fills our world. The Holy God must act against rebels who would ruin what God has made.
God has made a way of reconciliation, the way to restore the relationship between him and people who are alienated from him. The basis of God's plan is the saving work of Christ. God meets and matches human rebellion by his love to us in Jesus Christ. For if, while we were God's enemies, we were reconciled to him through the death of his Son, how much more, having been reconciled, shall we be saved through his life! (Romans 5:10 NIV)
Since we couldn't do anything to remove the alienation and since we didn't want to anyway, God provided the way for God and sinners to get back together. In order to bring two parties together, one must have a way to negotiate a settlement. Those who follow professional sports see this happen all the time. The management of the team and the athlete must bring offers and counteroffers to the table.
At the cross God counteracted the penalty that rebellious people had earned (Romans 3:24-26; 6:23). In the crucifixion of Christ, God demonstrates his justice and is able to declare us right with him because justice has been upheld.
The result is that God doesn't have to count people's sins against them, because Christ paid the penalty for sinners. Are you reconciled to God through the Lord Jesus Christ? Do you desire to see others reconciled to God?
Grace and peace, David