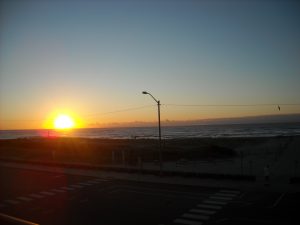 Genesis 39:1-6
Many Christians have read or have heard about Pilgrim's Progress. Its author was John Bunyan, a well-known preacher in seventeenth century England. But few have heard of his daughter, Mary. She was born blind, and her mother died when she was five. Her father was in prison for many years because he preached the gospel, and as his child she endured many years of poverty. She fell in love with a young man, but he was executed for taking part in a political plot. She died of a broken heart. Where were the rays of sunshine in her life? There were not many, but God was gracious to her, first blessing her with godly parents and then the gift of salvation.
At the current point in Joseph's life there were not many reasons for cheer. But the Lord was about to break through with a ray of sunshine. Let's watch God's plan unfold. Now Joseph had been brought down to Egypt, and Potiphar, an officer of Pharaoh, the captain of the guard, an Egyptian, had bought him from the Ishmaelites who had brought him down there (Genesis 39:1 ESV).
What was God doing in his big plan? God sent Joseph to Egypt to preserve his chosen people during the famine. We learn that at the end of the story of Joseph. The human side of the event was the action of the Ishmaelite merchants, but the Lord had his hand in the incident. They were ignorant of what God was doing; they were in it for the money. God mailed the letter and the Ishmaelites were the mail carriers. God does not usually begin his great works (Psalm 105:5,16-17) with spectacular signs and the sounding of trumpets. Nevertheless, he sent Joseph to the exact place he wanted him to be. Compare what is said of John the Baptist (John 1:6). Where did God send John to begin a great work? To the wilderness of Judea. Who would have thought that was the beginning of the gospel age? God sent Joseph to Egypt to fulfill part of his plan as he had revealed it to Abraham (cf. Genesis 15:13-14).
God also acted in the small details of his plan. Joseph was not placed in the fields as many slaves were, but in the house where Potiphar's eye could observe his good work. Joseph was placed in a situation where he is trained in the duties of supervision. The Lord did a similar thing for Moses, who was brought up in Pharaoh's court. The Lord usually invests part of his servants' lives in places where they gain just what is needed for their greater work. We ought not to despise those training places. We need to learn to be faithful in little matters prior to doing great tasks. The hand of God is also apparent in this fact. When Joseph falls from his master's favor, he would be placed in a royal prison. To get there, he must go through this intermediate step.
Remember that if you were Joseph, you would not know any of this. It would not have seemed like a ray of sunshine to him. Neither do we know how the small details of our lives will be part of God's larger plan for our lives and for the greater story of his glory. Sharon and I met through the arrangement of chapel seating. On September 9, 1970, I had no idea that my future wife was sitting two seats away from me. But it simply wasn't about us. Through bringing our lives together, he acted that others might come to know Jesus as their Lord and Savior. When I went to Grand Rapids, God provided a job for me through a person I sat next to in apologetics class my first day of classes. I had no idea that God was working out his plan to provide for my family, when Tarry came and sat next to me. The Lord directs our lives in many seemingly insignificant ways to accomplish his will in our lives.
God's ray of sunshine was on Joseph that day. He did not and could not have known what the Lord of human history would accomplish through a few small choices made by other people. Make time this week to reflect on little events and decisions, some by other people like your parents or teachers or work supervisors, that God has used to bring you to where you are today. Then bow in worship and thankfulness. Who knows what ray of God's sunshine might even fall on your life today?
Grace and peace, David