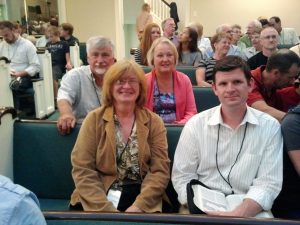 Ephesians 2:13
But now in Christ Jesus you who once were far off have been brought near by the blood of Christ (ESV)
When the Lord saves us, we experience many spiritual changes. Some are objective and concern our position and are not felt. Others are subjective, and we and others can discern changes in our attitudes, words, and actions. However, the changes in our spiritual position ought to affect our spiritual condition. For example, you may have heard some teacher say, "Be what you are in Christ."
In the words before our text, Christ's apostle described our hopeless situation before the Lord saved us. Therefore remember that at one time you Gentiles in the flesh, called "the uncircumcision" by what is called the circumcision, which is made in the flesh by hands—remember that you were at that time separated from Christ, alienated from the commonwealth of Israel and strangers to the covenants of promise, having no hope and without God in the world (Ephesians 2:11-12 ESV). We were separated from God, Christ, the covenants that established a relationship with God, and from the people of God.
The words "but now" signal a complete change in our situation. The separation and alienation came to an end by the blood of Christ. His life was poured out in a violent death as the sacrifice of the new covenant. It brought us near. What did it bring us near to? The sacrificial death of the Messiah brought us near to God, to Christ himself, to the covenants that establish an unending relationship with God, and to the people of God.
Usually, American Christians think of this verse in an individualistic way: "I myself know God through Christ and have a personal relationship with God, and I'm a member of the church." It is certainly right to rejoice in one's changed relationship with God and his people. But not to the exclusion of sharing in these blessings with other followers of Christ. What do I mean? Through many years of being a pastor, I have heard individual believers express their own desire to feel near to God. The question is, "How can I feel close to God?" And the answer is given by the 'experts' in individualistic ways, like "learn how to have a quiet time, to mediate, to journal" and so on. This type of approach is to ignore the very corporate nature of this passage. (Please read Ephesians 2:1-22 slowly. Can you see people from your small and big groups in it? Would you have thought that way if I had not suggested it?)
Instead, what happened is that the Lord Jesus brought us near by his shed blood. Yes, we are personally near to God, but the point in context is that we are near to God. This is a position that we share together. When we gather in our small and big groups, we ought to act according to the truth that we are near to God. Our Father is not far away.
Since this is true, we should communicate it in our meetings. I do not mean that we need to say it every time we meet, but it should be part of the 'DNA' of who we are. "We are the people who have been brought near by Christ's blood. We are a gathering of the Father's family, of followers of Jesus on a journey together."
Nearness to the covenants of promise ought to form the basis of our covenanting together in the mission of Christ and the good news. We then accept each other as close to God. Too often this kind of acceptance is only allowed to those in the inner circles of leadership. Others are assumed to be farther away and are looked at that way. However, if we start with the correct idea that all Christ's people are near to God, we will highly value the contributions of everyone. This produces a welcoming atmosphere in all our gatherings. We then never need to tell anyone, "Please make visitors feel welcome," because visitors will automatically sense that God is near and his people welcome them.
Since we know that we are near to God, we will feel confident about drawing near to God in worship together. The truth of James 4:8a (Draw near to God, and he will draw near to you) will occur constantly. Then we will experience what Paul wrote to the Corinthians when new ones are among us when the word is proclaimed. They will worship God and declare that God is really among you (1 Corinthians 14:24b ESV).
I want this for all the gatherings of Christ's people. May yours start to be what you are in Christ this weekend!
Grace and peace, David