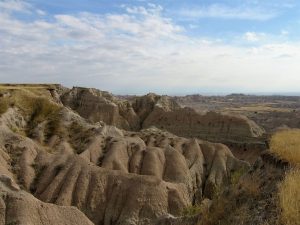 Ruth 1:1-5
Years ago in upstate New York, our family had a pastor from the Virgin Islands return to New York with us following a Bible Conference on the Jersey shore in mid-September. Now you must realize that mid-September in upstate NY is like early or mid-November in Philadelphia. This brother in Christ had never seen frost until he visited us. He wore my winter coat the entire time during his visit with us, including when he was inside our house! He was cold and told us, "If you would bring us up here to live, you'd kill us all!" Not only did he see frost for the first time, but he also saw fog when I took him to the Albany airport. The fog was so thick you could cut it with a knife. I actually had to stop the car one time in order to read a road sign. We thank God for safety on the road that morning, and for the many times we had to travel in thick fog in that area. But when you travel in fog, it makes for an uncertain journey.
Our text is about a family who started out on an uncertain journey. Given the increasing violence, the turbulent political scene, and the economy, you might feel like you're on an uncertain journey today. What will happen? No one is really sure. I have always thought that a realistic, rather than a pessimistic or optimistic approach, is best at such times. Take a full view of what is happening, and remember to keep the all-powerful, wise God in the center of your view. In any sequence of events, it is better to trust the living God, the Maker and Ruler of all things, than to put your confidence in people.
What was the cause of their uncertain journey (1:1a)? People in Israel faced troublesome times. The religious and political setting was terrible. Israel lacked a stable, central government. Various judges, raised up by God, rescued and led his people after times of religious decline. But the people suffered constantly from actual physical danger or fear of danger because of weak government. Raiders and robbers were an ongoing problem, and they experienced civil war. All these things threatened the young nation's survival. Israel continued to go through a recurring religious cycle a number of times: rebellion against the Lord, judgment by the Lord, repentance by the people, and deliverance by God. Any return to the Lord was short-lived and did not affect the whole nation.
Next came an economic disaster. God sent a famine in the land, probably in most of the land; otherwise, there would have been no reason for leaving Israel at all. Since Israel was God's covenant people under his law, we must view this correctly. In our day, most people do not see God's hand in anything, especially the weather. Jesus taught his followers differently (Matthew 5:45). God had promised to bless Israel (Deuteronomy 28:1-6, 8, 11), if they obeyed him. But he had also promised to punish them, if they disobeyed (Deuteronomy 28:15-19, 23-24). At such a time of famine, everyone in Israel was responsible to confess their sin to the Lord and turn from it. The question that confronted the people in this story was simply this. Would they believe God and return to him? Or would they seek their own solutions to the difficulties of their lives? This is the great choice facing God's people today. Will we believe on and act according to God's word, or will we rely on our wisdom and the opinions of so-called experts?
Please read the following carefully. America is not old covenant Israel or God's nation. But the Scripture still warns any nation of judgment that turns its back on God. The wicked return to the grave, all the nations that forget God (Psalm 9:17). It is time for us to seek the Lord. The living God is gracious and perhaps he will have mercy on us. Do not wait for current events to improve. Now is the right time for each of us to humble ourselves before him. We need to follow Christ's leadership through the Spirit and the word of God.
Grace and peace, David